Margo was honored with this article entitled "Shelf Life," in Connections, the Milken Family Foundation's bi-annual newsletter. As a Milken Educator, Margo is one of a handful of similarly honored teachers who are also authors.
The Minnesota Humanities Commission selected Funny Man as a finalist for a 2003 Minnesota Book Award in the Young Adult Literature category.
Funny Man, published by Perfection Learning, has been nominated for consideration for YALSA's 2003 Quick Picks for Reluctant Young Adult Readers.
The ALA nominated two middle school novels for their 1999 and 1997 Quick Pick List for Reluctant Young Adult Readers, Fight in the Fields: Cesar Chavez (1998) and Don't Bug Me (1996).
Multicultural Review has recommended five of her books: Clubhouse Threat, Funny Man, Langston Hughes, Cesar Chavez, and Queen Lili'uokalani.
School Library Journal named Nothing is for Free as a "top five pick" for a reluctant reader collection.
Clubhouse Threat, published by Perfection Learning is recommended by the United States Golf Association. It was nominated for the USGA 2001 International Book Award.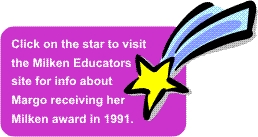 Minneapolis Public Schools adopted her seventeen hi-lo novels for their middle school supplement, and the State of California adopted her two informational books, Tsunami and Hurricane!; the rest of her books are in legal and social compliance, State of CA Dept of Education, for use by all California schools.