Margo Sorenson is the author of more than 30 books for young readers. A National Milken Educator and Minnesota Book Award finalist in YA fiction, Margo's newest Young Adult/crossover adult novel is Secrets in Translation (Fitzroy Books, November 2018). What seventeen-year-old girl wouldn't want to return to Italy and meet a hot, young, Italian university student? For Alessandra, the answer is more complicated—and dangerous. Her latest picture book is Spaghetti Smiles, (Pelican Publishing, September 2014), in which Jake wants to find the perfect neighbor for his Uncle Rocco's Italian restaurant, but it's not going to be easy!
Secrets in Translation press release
To download Margo's photo at the right, right-click on the link below and choose "save target as" or "save link as."
Click here for: 300 dpi, CMYK, JPG, 2" w x 4.8" h
Click here for: 72 dpi, RGB, JPG, 170 pixels wide
Click here for: 300 dpi, grayscale, JPG, 2" w x 4.8" h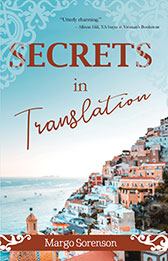 Margo's newest book!